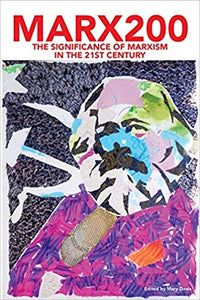 Marx200 examines the significance of Marxism for today's world
Leading scholars and activists from different countries - including Cuba, India and the UK - show that Marx's ideas continue to provide us with the analysis we need to understand our world today in order to change it. 
The relevance of Marx's contribution to political economy is discussed, as is Marxism and the ongoing battle of ideas. John McDonnell MP, former Shadow Chancellor, writes about Marxism as a force for change in the 21st century. The leader of the Indian Communist Party, Sitaram Yechury, focuses on Marx's legacy 200 years on.
Other wide-ranging topics demonstrating the relevance of Marxist ideas and approaches in the current climate include: 'neoliberalism, austerity and Marx', 'capitalism and new technology', 'Marxism and the environment', 'Marxism & Women', 'Marxism and culture' as well as 'the role of the state', 'Marxism and the present as history' and 'Populist nationalism'.
The book is based on a major international conference organised by the Marx Memorial Library to coincide with the 200th anniversary of the birth of Karl Marx on 5 May 2018.
PAYMENT: Please fill out your details on the checkout section and enter credit card details and special offer code on the shipping page. You can also use other payment methods for express checkout. If you have any difficulties please email praxispress@me.com